With more than 60 years of experience, Kanigen Group has become a trusted partner for industry and parts manufacturers. The electroless nickel plating process provides real added value, particularly for precise parts or those with complex geometries.
Kanigen Group offers technical support during the development of new applications of its customers operating in diverse industrial segments. By optimised use of the properties of electroless nickel and variants, we help our customers do develop improved products where possible, and sometimes even making it possible for them to conquer new markets.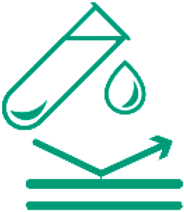 Protection against corrosion
Wear-resistant
Non-magnetic
Reduced friction
Solderability
Electroless nickel and Electroless Nickel with PTFE (NiPtef) are being increasingly applied on mechanical parts, where geometries are becoming more complex, requiring even greater precision.
References: Schneider, Le Gris, Parker, Stäubli, Eaton, etc.
Applications:
Connectors
Plugs
Push buttons
Circuit breakers, etc.
Electroless nickel has been applied in compressor and pneumatic designs for years, both on high-precision machine core parts and on air inlet and exhaust piping.
The advantage of electroless nickel is that it deposits a uniform layer inside tubes and pressure vessels. Electroless nickel with PTFE is mainly used in safety systems or for dry lubrication.
References: Atlas Copco, Siemens Energy, etc.
Applications:
Compressor components
Pressure regulators
Connectors
Pressure vessels, etc.
Electroless nickel and hard electroless nickel are both applied in solving corrosion or wear issues. In the case of differentials, hard electroless nickel is also applied to prevent galling between two components.
References: Caterpillar, CNH, John Deere, Dana, etc.
Applications :
Valve spools
Train breaking systems
Biofuel supply pipes
Differential components
Hydraulic system components, pistons, hydraulic manifolds, connectors
Coupling between metro/train wheels and motors, etc.
Due to their corrosion resistance and hardness, electroless nickel and hard electroless nickel are almost the industry standard.
References: Bosch Rexroth, Eaton, Stäubli, etc.
Applications :
Pistons
Covers
Seal rings
Hydraulic manifolds
Connectors, etc.
Electroless nickel is often used on steel as an alternative to stainless steel parts which are expensive in terms of material and production. Electroless nickel is considered G.R.A.S. (Generally Recognized As Safe) by the FDA (Food and Drug Administration) and is therefore approved for use in direct contact with pharmaceutical or food products. Kanigen Group has a catalogue of compatible and non-compatible products that are available on request.
References: Pfizer, JBT Food, Procter & Gamble, etc.
Applications :
Pill presses
Bakery equipment
Bottle and can filling machines
Food and pharmaceutical packing machines
Food transfer valves and transmission systems
Pressure rollers for shaping the food prior to cooking, etc.
Parts for high-end analytical equipment. For example for DNA research or virus detection.
Electroless nickel and its variants are applied in specialised machinery and equipment to provide additional properties and/or solutions on high precision parts or under specific circumstances.
References: Heidelberg, etc.
Applications :
Paper printers
Plastic film printers
Injection and extrusion moulds
Toolings and special jigs
Transmission systems
Pumps
Valves, etc.
Electroless nickel and various variants are used by manufacturers of systems and components for gas, oil, on- and off-shore applications.
Kanigen Group is co-author of the NAM specification.
On request we can work in accordance with the application standards for diffusion layers.
The following standards can be applied:
Petrobras: ET-3000.00-1500-950-PMU-001
Technip: KA02
NOV : SP-ENG-004
Wellstream: MTL-5212
Schlumberger : ES40290
... .
Applications :
Electroless nickel
Compressors, hydraulic components, ball, spool and butterfly valves, natural gas flow measurement components, lifting securing systems, submarine rudder rods, securing and fastening systems, rotary unions ...
Hard Chemical Nickel
Drilling systems, Heavy load lifting, ...
Electroless nickel with PTFE
Valve components, subsea ROVs
Diffusion electroless nickel
Hydraulic components and subsea couplings.
Our electroless nickel plating processes enable us to meet many of the needs expressed by the aerospace, defence and arms industries. The company's references include a number of prime contractors, arms manufacturers and equipment and vehicle suppliers.
Applications :
Electroless nickel
Radar parts, missile parts, vehicle armour parts, screw-cutting machines for the manufacture of bushes and bush-filling machines.
Electroless nickel with PTFE
Machine gun and connector parts.
Black electroless nickel
Connectors, static parts integrated into armament systems, vision systems, front covers for casings and fixtures.
Textile machinery, which is heavily exposed to wear, contains many parts treated with electroless or hard electroless nickel.
References: Picanol, Vandewiele, Oerlikon, etc.
Applications :
Power loom
Yarn extrusion machines
Winding machines
Jacquard machines, etc.
By continuing to browse this site, you consent to the use of personal data for statistical purposes relating to navigation information. See the
privacy policy
for more information.